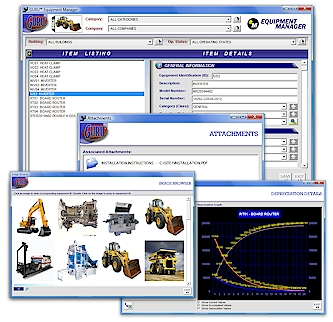 FILE SPECIFICATIONS

Name:

Equipment Manager

Filename:

EMV47RAU.EXE

File Size:

7.9 Megabytes

Version:

4.7

Author:

Cedesta Systems

Release Date:

March 4th, 2016

Certified?

Cost:

FREE
Managing assets can be a major chore if you don't have the right tool. The Equipment Manager ensures that you don't experience such a headache by providing you the tool to manage asset information effectively.
Includes the following features:

· Stores over 50 different data elements per item.
· Depreciation Scheduling; multiple methods.
· User-definable templates.
· 4 concurrent filter settings.
· Powerful full-field search capability + image browser.
· Both standard and hierarchy views.
· Asset relationships.
· Built-in report editor.
· Attachment support.
· Complete printout and copy-to-clipboard options.
· Easy to enter information using our "smart scroll" window.

Click here to view full-screen image.

---

DOWNLOADING INSTRUCTIONS:
The file that you will download is called EMV47RAU.EXE. This is your setup program.
INSTALLATION INSTRUCTIONS:
· Once you have downloaded the setup program, run it and follow the installation instructions.
· The installation program will install the system files, including the .GAM file required to add to your console.
· From the GURU console, click on SYSTEM, and then INSTALL ADD-IN. A new dialog box will appear.
· Click on BROWSE and select the IDENTIFY.GAM file that you just downloaded and then click on OK.
· A confirmation message should now appear stating the add-in was successfully installed. Click OK to close.
· From the console, click on APPLICATIONS. You should now see the new add-in you just installed.
· Just double-click on the EQUIPMENT MANAGER add-in to start!