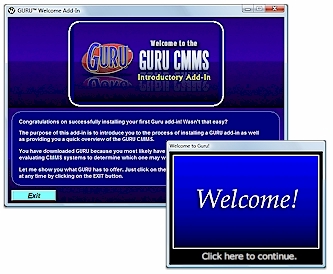 FILE SPECIFICATIONS

Name:

Welcome

Filename:

WELADD35.EXE

File Size:

2.9 Megabytes

Version:

3.5

Author:

Cedesta Systems

Release Date:

January 20th, 2015

Certified?

Cost:

FREE
Start off your Guru experience by downloading and installing the Welcome add-in. This add-in will not only introduce you to the ease of adding functionality to your system, but will also bring you up to speed on some of features available for Guru CMMS.
Includes the following features:
· Overview of features and concepts regarding the Guru CMMS.

Click here to view full-screen image.


---
DOWNLOADING INSTRUCTIONS:
The file that you will download is called WELADD35.EXE. This is your setup program.
INSTALLATION INSTRUCTIONS:
· Once you have downloaded the setup program, run it and follow the installation instructions.
· The installation program will install the system files, including the .GAM file required to add to your console.
· From the GURU console, click on SYSTEM, and then INSTALL ADD-IN. A new dialog box will appear.
· Click on BROWSE and select the IDENTIFY.GAM file that you just downloaded and then click on OK.
· A confirmation message should now appear stating the add-in was successfully installed. Click OK to close.
· From the console, click on APPLICATIONS. You should now see the new add-in you just installed.
· Just double-click on the WELCOME add-in to start!