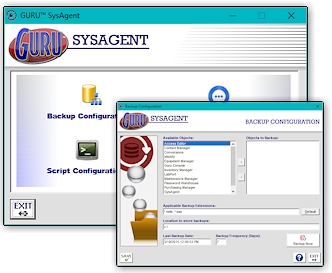 FILE SPECIFICATIONS

Name:

SysAgent

Filename:

SAINSTALL.EXE

File Size:

2.4 Megabytes

Version:

1.0

Author:

Cedesta Systems

Release Date:

December 3rd, 2014

Certified?

Cost:

$350.00 USD

The SysAgent add-in adds additional administrative features to your Guru CMMS. Features such as automatic database/file backups, system notices, and script execution.


Includes the following features:
· Ability to set automatic backups for all your add-in's or sites.
· Startup system message notification.
· Script execution with defined delay.
· Powerful multi-threaded design.

Click here to view full-screen image.

---
DOWNLOADING INSTRUCTIONS:
This registered add-in is not available for downloading since we do not offer a trial version. If you are interested in learning more or obtaining this add-in, please
contact us
for details.