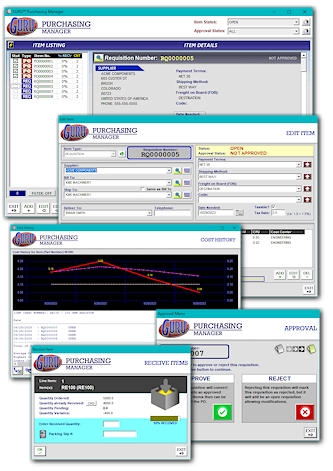 FILE SPECIFICATIONS

Name:

Purchasing Manager

Filename:

PMGV55N.EXE

File Size:

10.9 Megabytes

Version:

5.5

Author:

Cedesta Systems

Release Date:

April 22nd, 2016

Certified?

Cost:

$425.00 USD
The Purchasing Manager is a great addition to your Guru system to manage purchase requisitions and purchase orders. Designed using a streamlined interface, the Purchasing Manager provides access to your requisitions and purchase orders instantly.
Includes the following features:

· Automatic requisition and purchase generation.
· Custom prefixes.
· Submit and approval system.
· Split and merge features.
· Displays items in a realistic view, not just a simple form.
· Built-in report editor.
· Archiving and archive viewer.
· Approval limits.
· Cost Histories.
· Sarbanes-Oxley compliant.

Click here to view full-screen image.

---

DOWNLOADING INSTRUCTIONS:
The file that you will download is called PMGV55N.EXE. This is your setup program.
INSTALLATION INSTRUCTIONS:
· Once you have downloaded the setup program, run it and follow the installation instructions.
· The installation program will install the system files, including the .GAM file required to add to your console.
· From the GURU console, click on SYSTEM, and then INSTALL ADD-IN. A new dialog box will appear.
· Click on BROWSE and select the IDENTIFY.GAM file that you just downloaded and then click on OK.
· A confirmation message should now appear stating the add-in was successfully installed. Click OK to close.
· From the console, click on APPLICATIONS. You should now see the new add-in you just installed.
· Just double-click on the PURCHASING MANAGER add-in to start!