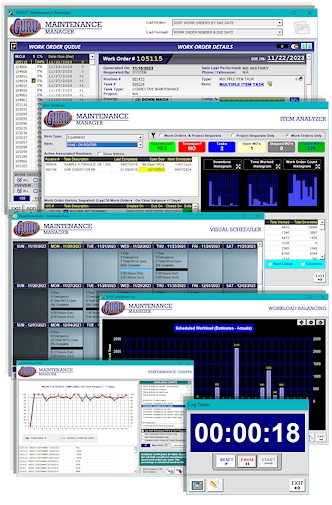 FILE SPECIFICATIONS

Name:

Maintenance Manager

Filename:

MMRL90A.EXE

File Size:

18.7 Megabytes

Version:

9.0

Author:

Cedesta Systems

Release Date:

August 3rd, 2017

Certified?

Cost:

$425.00 USD
Start making your life easier by managing all your maintenance-related needs via the Maintenance Manager add-in-- one of the most powerful, user-friendly, and inexpensive maintenance programs available anywhere.
Includes the following features:

· Powerful maintenance scheduler.
· Multiple frequencies including daily, yearly, meter-based, seasonal.
· Visual scheduling with forecasting capabilities.
· Activity health analysis.
· Failure Modes and Root Cause collection.
· Individual activity record tracking.
· Complete management of tools, labor, and associated costs.
· Easy-to-use workload balancing tool.
· Schedule compliance reporting.
· On-Time performance analysis/reporting.
· Built-in approval system, including automatic approval option.
· Automatic part consumption support.
· Many canned reports, custom reports, and analysis graphs.
· Built-in report editor.
· Built-in archiving utility & viewer.

Click here to view full-screen image.

---

DOWNLOADING INSTRUCTIONS:
The file that you will download is called MMRL90A.EXE. This is your setup program.
INSTALLATION INSTRUCTIONS:

· Once you have downloaded the setup program, run it and follow the installation instructions.
· The installation program will install the system files, including the .GAM file required to add to your console.
· From the GURU console, click on SYSTEM, and then INSTALL ADD-IN. A new dialog box will appear.
· Click on BROWSE and select the IDENTIFY.GAM file that you just downloaded and then click on OK.
· A confirmation message should now appear stating the add-in was successfully installed. Click OK to close.
· From the console, click on APPLICATIONS. You should now see the new add-in you just installed.
· Just double-click on the MAINTENANCE MANAGER add-in to start!