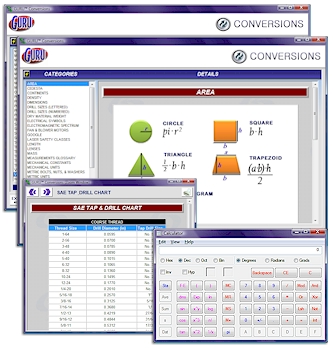 FILE SPECIFICATIONS

Name:

Conversions

Filename:

CNV36DYC.EXE

File Size:

3.8 Megabytes

Version:

3.6

Author:

Cedesta Systems

Release Date:

January 23rd, 2015

Certified?

Cost:

FREE
The Conversions add-in puts an online reference book at the tip of your fingertips. Reference many of the commonly-used formula's and charts used in today's industry. Quickly review the conversion formula's for area, density, length, drill sizes, mass, ohm's law, pressure, speed, and many others.
Includes the following features:
· Over 40+ reference categories.
· Send any content to your printer.
· Ability to add your own content.
· Supports Excel and Word files.
· Incorporate web pages directly into the add-in.

Click here to view full-screen image.
---

DOWNLOADING INSTRUCTIONS:
The file that you will download is called CNV36DYC.EXE. This is your setup program.
INSTALLATION INSTRUCTIONS:
· Once you have downloaded the setup program, run it and follow the installation instructions.
· The installation program will install the system files, including the .GAM file required to add to your console.
· From the GURU console, click on SYSTEM, and then INSTALL ADD-IN. A new dialog box will appear.
· Click on BROWSE and select the IDENTIFY.GAM file that you just downloaded and then click on OK.
· A confirmation message should now appear stating the add-in was successfully installed. Click OK to close.
· From the console, click on TOOLS. You should now see the new add-in you just installed.
· Just double-click on the CONVERSIONS add-in to start!